Return to Headlines
OAHS student musicians selected for PMEA festivals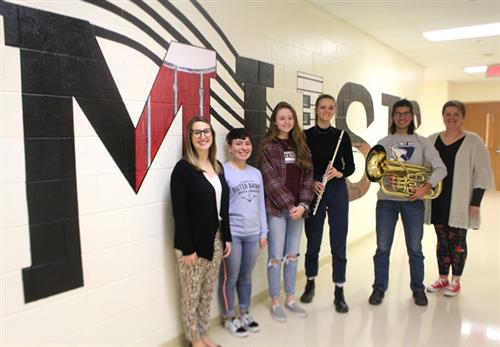 From left are Oxford Area High School choral director Bridget Saltzburg, sophomore Virginia Bresler, seniors Elena Roe and Miranda Nilan, sophomore Emiliano Zetune and band director Dr. Erin Kaupilla. The four students were selected to perform at Pennsylvania Music Educators Association District 12 music festivals in January and February.
Four Oxford Area High School students were selected to perform at Pennsylvania Music Educators Association (PMEA) District 12 music festivals after a day of auditions at Immaculata University on November 23.
Senior Miranda Nilan, daughter of Rosemarie and Tim Nilan, was selected to perform as second chair in the flute section of the District 12 Band at the Band Festival to be held from February 13 to 15 at Radnor High School and the District 12 Orchestra at the Orchestra Festival to be held from January 30 to February 1 at Upper Darby High School. Miranda was also selected to perform at alto 2 with the District 12 Chorus at the Chorus Festival to be held from January 16 to 18 at Sun Valley High School.
Miranda has had a distinguished high school singing career. As a sophomore and junior she was selected for the district, regional and state PMEA Chorus Festivals.
This past New Year's Day, Miranda marched and played flute as one of 12 Oxford Area High School musicians who performed with the Cavalcade of Bands Honor Band in the Tournament of Roses Parade in Pasadena, California. She topped off her junior year by being selected to perform in the 300-member Mixed Chorus at the National Association for Music Education All-National Honors Ensemble event held on November 9 and 10 in Orlando, Florida.
Senior Elena Roe, daughter of Laurie and James Roe, and sophomore Virginia Bresler, daughter of Carey and Kevin Bresler, were also selected to perform with the Disrtict 12 Chorus at the Chorus Festival, Elena at soprano 1 and Virginia at soprano 2. In her junior year Elena was selected for the district and regional Chorus Festivals.
Sophomore Emiliano Zetune, son of Kathleen and David Zetune, was selected to perform as fourth chair in the euphonium section at the Band Festival.
All four students agreed that auditioning and performing at any of the PMEA festivals is both challenging and rewarding. Many of the festivals feature distinguished guest conductors and directors who are able to get the best out of each highly-talented musician.
For the District 12 Band Festival, the guest conductor is Dr. Virginia Allen, founder and Artistic Director Emerita of the Philadelphia Wind Symphony. She is a conductor, music educator, arranger and consultant in Philadelphia and an adjunct faculty member at The Julliard School.
"The festivals are challenging because you are singing or playing pieces that are more complex than the music we perform in our school concerts," said Miranda, who plans to major in music in college and to pursue a career teaching music. "But they are an amazing experience because every student there really loves music and performing and it's great to be able to learn how to work together."
All four students will be involved in the high school's spring musical production of Once Upon a Mattress, to be presented on March 5 and 6, with Miranda in the lead role of Princess Winnifred. Elena and Virginia, who have appeared in past musicals, will have featured roles and Emiliano will play in the pit orchestra for the second year in a row.
Band director Dr. Erin Kauppila, a past District 12 President, praised the students for their outstanding performances and for being among the best of approximately 800 musicians who auditioned for festival selections. "Each of them has shown me a tremendous work ethic," she said. "Not only do they work hard in class, but they also work to improve their skills through private lessons. Our music program has amazing support from the school district and the Oxford community, and the success of our four students is a direct result of that support."