Return to Headlines
OAHS April Students of the Month
Oxford Area High School recently held a breakfast to recognize the school's Students of the Month for April. Each month teachers in selected departments nominate underclassmen for this honor, with the final selections made by the school administration.
Students of the Month are chosen based on criteria including demonstrating an effort and desire to learn; involvement in school and classroom activities; respect for all school policies and personnel; concern for the school community and friendliness and support for other students. The following Students of the Month for April were named after being nominated by members of the math department.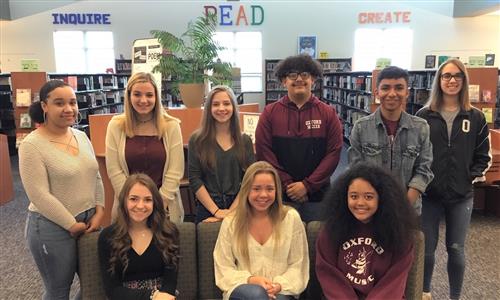 Oxford Area High School recently named its Students of the Month for April. Seated from left are sophomores Alexa McCormick and Emily McShane and junior Lilia Quinn. Standing from left are junior Nadia Bakalez, sophomore Megan Marchiani, freshman KaLeigh Cruz, juniors Estevan Bedolla-Lara and Saul Torres and sophomore Shelby Deutsch. Sophomore Holden Medina is not pictured.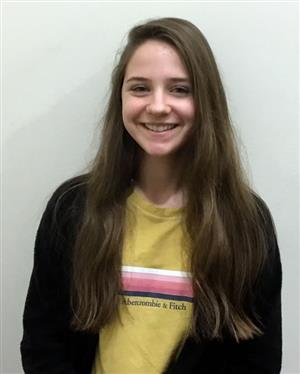 KaLeigh Cruz, freshman: Nominating teacher George Hildebran said, "If there was ever a book written about how to be perfect student, it would be a biography of KaLeigh Cruz. She is a fantastic student who other students would be wise to emulate.
"Not only does KaLeigh maintain a high level of excellence for herself, she also exhibits tremendous leadership skills by assisting classmates every day, which enables them to be successful. Any time KaLeigh struggled in class, which has only occurred a few times, her perseverance has always allowed her to overcome those struggles. It has been an honor and privilege to have KaLeigh in class this year."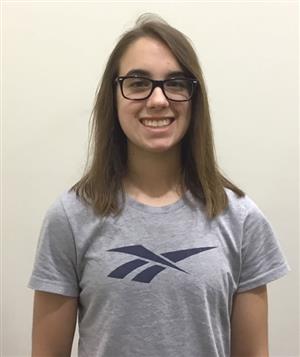 Shelby Deutsch, sophomore: Nominating teacher Nicole Wiltrout said, "Shelby is a hardworking student who's very dedicated to her academic success. In the beginning of the year, she struggled and lacked confidence in her abilities, but she really stayed focused and motivated to do well.
"Shelby is independent and mature, and doesn't give up when faced with a challenge. It has been gratifying to watch her grow, get to know her personally and call her one of my students."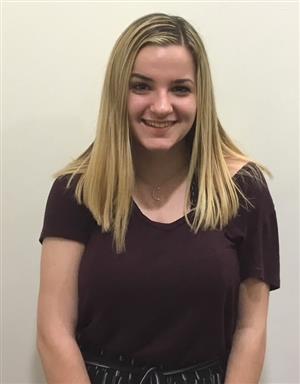 Megan Marchiani, sophomore: Nominating teacher Mike Walling said, "Megan has been a very hardworking student throughout the entire year, and I want to recognize all the effort she puts in on a daily basis."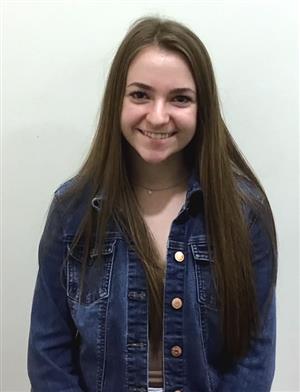 Alexa McCormick, sophomore: Nominating teacher Kim Britton said, "Alexa is a model student whose work ethic is consistently above and beyond. She enters my classroom every day with a polite greeting and never without a smile on her face.
"I will often tell the class to try at least a few problems before the bell rings and then if you need a break after my long lesson, please take one. Alexa stands out each day as that student who chooses to never take that break and continue to work until the bell rings.
"Alexa often brings a question up for clarification from the lesson as she is great with advocating for herself. This is reflected in her performance assessments, as she always has one of the top grades in her Honors Algebra 2 class.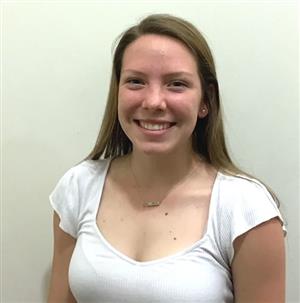 Emily McShane, sophomore: Nominating teacher Kristina Spano said, "Emily is an extremely dedicated and hardworking student. She is an active participant in class – both asking and answering questions.
"Emily is a model student and is also involved in extracurricular activities. She is a member of the girls' soccer team and the track and field team, and is active in the music program."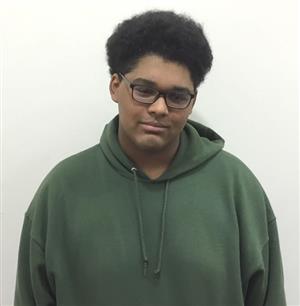 Holden Medina, sophomore: Nominating teacher Cary Jefferis said, "Holden participates in class, demonstrates a strong work ethic and always tries his best. He is respectful and a pleasure to have in class."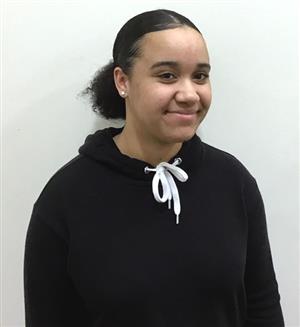 Nadia Bakaez, junior: Nominating teacher Kasey Lombardo said, "Nadia is friendly and such a hard worker. I can see that she has a love for math, and I appreciate that she wants to fully understand the material, and not just 'get by'. I have really enjoyed having her in class for three years and will miss her next year."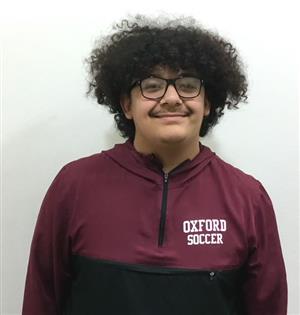 Estevan Bedolla-Lara, junior: Nominating teacher Scott Wooddell said, "Estevan is an excellent critical thinker and problem-solver. He works well with other students and actively participates in class.
"Estevan completes all assignments thoroughly and accurately. He is articulate in the way he communicates his thoughts and ideas."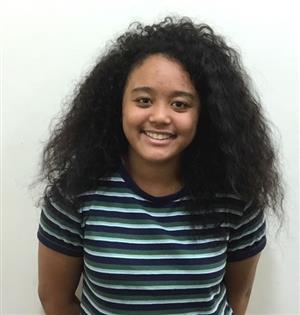 Lilia Quinn, junior: Nominating teacher Michelle Arrante said, "Lilia not only has outstanding grades but is also willing to help others. I have often heard other students talk about seeking her help after hours. Lilia is a cheerful girl who always has her work complete and takes pride in it."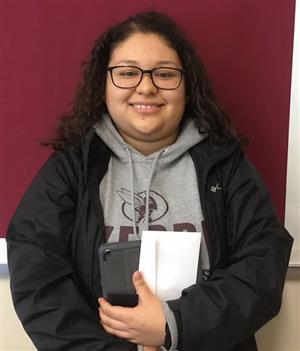 Saul Torres, junior: Nominating teacher Nick Spano said, "Saul is a model student who has done an excellent job in class this year. Even more than that, he has shown a maturity beyond that of his peers and does whatever is asked of him, and then some."