Return to Headlines
Rotary Seniors of the Month
OAHS Oxford Rotary Club Febuary Seniors of the Month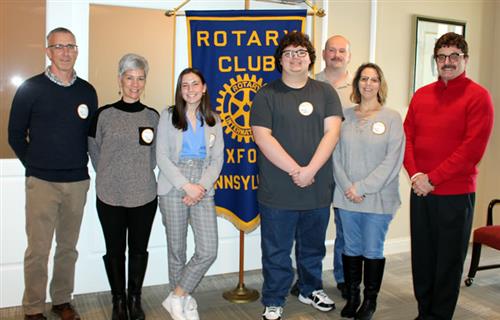 Oxford Area High School students Elizabeth Estes and Bruce Weiss were honored as Oxford Rotary Club Seniors of the Month for February. From left are Bill Estes, Tara Mather and Elizabeth; Bruce and parents Bruce and Lorrie; and Rotary Club President Dr. Raymond Fischer.
Oxford Area High School students Elizabeth Estes and Bruce Weis were recently honored as Oxford Rotary Club Seniors of the Month for February.
Elizabeth, daughter of Tara Mather and Bill Estes, is a member of National Honor Society, Spanish National Honor Society and the National English Honor Society. She is serving her second year as president of Student Council, is a member of the Helping Hands and Interact community service clubs and has participated in the Chester County Student Forum as Oxford's representative.
As a member and current president of the high school's chapter of Future Business Leaders of America, Elizabeth has attended the Pennsylvania FBLA State Leadership Conference and Competition for the past three years. She will attend this year's conference, to be held from April 6 to 8 at the Hershey Lodge and Convention Center, as Pennsylvania FBLA Region 9 president, after serving as regional secretary her junior year.
A lifelong Oxford resident, during her junior year Elizabeth served as a Junior Township Supervisor for East Nottingham. As a non-voting Junior Supervisor, she attended all public Board of Supervisors meetings, participating in discussions and making inquiries pertaining to agenda items.
Elizabeth's responsibilities included providing a monthly report to share information about current events and concerns in the East Nottingham community, especially issues of concern to young people. She was also required to complete a community service project in the township.
Elizabeth was a four-year member of the cross-country team and is beginning her fourth season on the varsity track and field team, competing in the two-mile event. In her junior year she received All Ches-Month League Honorable Mention for cross-country.
After graduation Elizabeth plans to attend college, and while undecided on a major her preferences include the University of South Carolina and the University of San Francisco.
Bruce, son of Lorrie and Bruce Weiss, is a member of the Science National Honor Society and a four-year member of one of the high school's Team Twobar in the annual FIRST Tech Challenge robotics competition. He brought along the robot the team designed, built and programmed for this school year's robotics events and showed the Rotary Club members how the robot can perform a variety of required tasks during a competition.
Bruce had high praise for the Oxford Area School District's robotics program, which spans second through 12th grades, and Oxford Robotics Inc., its sponsoring organization. He also thanked the community for its support of the program, including the Rotary Club, which has benefited the program through meeting fundraisers, and the Oxford Educational Foundation which has provided grants to help cover expenses such as equipment, member fees and travel to events.
"I have developed so many valuable skills in my four years of robotics at the high school," Bruce told the club members. "Not only have I learned technical skills such as wiring and programming, but all of the members learn how to work collaboratively. We each have our own responsibilities but ultimately we learn how to work effectively as a team."
After graduation, Bruce plans to attend college to study math or computer science. His choices include the University of Pittsburgh and Bucknell University.