Return to Headlines
Rotary Seniors of the Month
OAHS Oxford Rotary Club October Seniors of the Month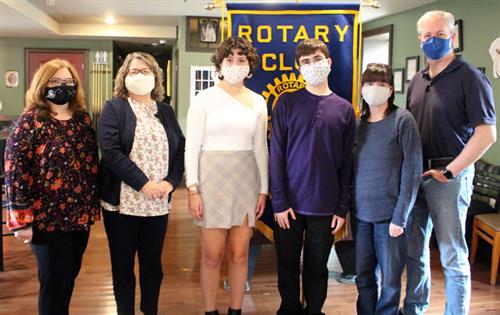 Oxford Area High School students Turner Hannon and Gabriella Lombardi were honored as Oxford Rotary Club Seniors of the Month for October. From left are Rotary Club President Carey Bresler, Sue and Gabriella Lombardi and Turner, Tricia and Tim Hannon.
Oxford Area High School students Turner Hannon and Gabriella Lombardi were recently honored as Oxford Rotary Club Seniors of the Month for October.
Turner, son of Tricia and Tim Hannon, is a member of National Honor Society, Spanish National Honor Society and the National English Honor Society. He is a four-year member of the high school's team in the Chester County Academic Competition, competing on the varsity as a junior and senior, as well as a member of the OAHS team in the Chester County Quiz Bowl.
Since second grade, Turner has been a member of each of his school's teams in the Chester County Envirothon. As a sophomore, he and the Envirothon team members were among several students and club members who planted approximately 450 trees on the school campus, creating a natural barrier to keep pollutants from seeping into Little Elk Creek.
Turner is currently enrolled in AP U.S. History and AP Calculus. He has previously taken AP Math for Economics and AP Environmental Science, scoring 5's in both exams. He was the first Oxford sophomore to take AP Calculus and scored a 5 on the exam.
Turner was recently named a Commended Student in the 2021 National Merit Scholarship Program. Approximately 34,000 Commended Students throughout the United States were recognized for placing among the top 50,000 scorers of the more than 1.6 million students who entered the competition by taking the 2019 Preliminary SAT/National Merit Scholarship Qualifying Test.
After graduation, Turner plans to attend college to study actuarial science. His choices include Lebanon Valley College, the University of Pittsburgh and Arcadia and West Chester universities.
Gabriella, daughter of Sue and Rich Lombardi, is a member and historian of National Honor Society and treasurer of the Spanish National Honor Society, as well as a member of National English Honor Society. She is a member of the Helping Hands and LEOs community service clubs.
As a junior, Gabriella was named the high school's recipient of the 2020 Widener University/NBC-10 High School Leadership Award, which recognizes high school students in the Philadelphia region who embody the university's commitment to develop and inspire leaders to affect positive change. Those who receive the award have been recognized for their ability to demonstrate courage by standing up for what is right, finding a way to address a wrong or making a difference in a significant way.
Gabriella has participated on competitive cheer teams for 14 years, and is in her third year as coach of the Junior 1 team at KX Athletics in West Grove. At KX Athletics, she served as a "buddy" to a special needs cheer student for two years.
At age 16, Gabriella was diagnosed with lymphoma. She underwent four rounds of chemotherapy and on November 1 will mark one year that her cancer has been in remission.
Gabriella is enrolled in AP Biology, AP Statistics, and AP English. She is taking Spanish V and previously took Latin III.
Gabriella is currently undecided about her plans after graduation, but is looking forward to a bright future.