Return to Headlines
OAHS FBLA members attend State Conference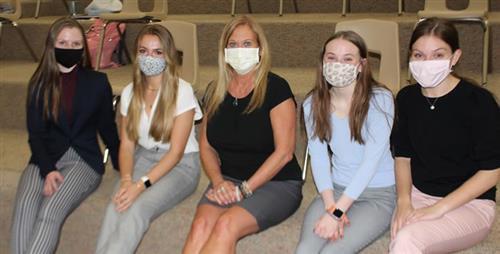 Eight members of the Oxford Area High School chapter of Future Business Leaders of America recently attended the virtual Pennsylvania FBLA State Leadership Conference. Pictured from left are junior Kenna Mullins, senior Alexa McCormick, chapter advisor Kimberly Webber and juniors Samantha Dunlap and Gabby Clark. Also attending the conference were senior Christopher Goodrich, junior Jordan Kane, sophomore Victoria Gaspar and freshman Madeline Soule.
Eight members of the Oxford Area High School chapter of Future Business Leaders of America attended the Pennsylvania FBLA State Leadership Conference and Competition held virtually from April 12 to 14. The students qualified for the conference after finishing among the top three scorers in their business-related events at the Pennsylvania FBLA Region 9 Conference, which was held virtually in January.
For the regional conference, some chapter members completed an online 100-question test in their individual topic/event, while others created a presentation (individual and group) and submitted it for judging. Other members were interviewed by judges via Zoom.
Qualifying for the state competition were senior Christopher Goodrich, First Place, Journalism; the team of juniors Gabby Clark, Samantha Dunlap and Jordan Kane, First Place, Publication Design; freshman Madeline Soule, Second Place, Introduction to Public Speaking; junior Kenna Mullins, Second Place, Agribusiness; senior Alexa McCormick, Third Place, Political Science; and sophomore Victoria Gaspar, Third Place, Intro to Event Planning.
At the State Leadership Conference, top 10 finishers in each event were announced at a virtual awards ceremony on April 13. FBLA chapter advisor Kimberly Webber explained that there is little statistical difference among the top 10 scores in each event.
At the state level, Madeline Soule placed sixth in Introduction of the Public Speaking and Christopher Goodrich placed ninth in Journalism. Madeline said she felt the public speaking event was a natural fit for her personality.
"I love speaking and talking in public," she said. "I want to be a news anchor in the future, and competing in the public speaking category helped me to practice and prepare for a career that involves public speaking."
While some of the chapter members had previously qualified for the in-person State Leadership Conference normally held at the Hershey Lodge and Convention Center, Madeline's first state-level experience was also a virtual one.
"I was not totally sure of what to expect," she admitted. "As for giving my speech, I found it relatively easy, in that if I messed up while recording my speech, I could always restart. Obviously, in a normal competition, you are giving your speech live, so that luxury is not given."
While successful in her chosen competition this year, Madeline said she looked forward to competing in other types of events as her FBLA participation continues. "I found it very interesting how many different topics there were to choose from!" she said. "There was such a wide range from journalism to accounting to event planning. Also, while I was watching the award ceremony, it was amazing to see all the different scholarships and leadership opportunities FBLA provides."
Victoria Gaspar was also attending her first State Leadership Conference, and saw competing in the event planning category as a way to help determine if it was a career she may want to pursue. Overall she said the conference turned out to be an enjoyable experience.
"For the virtual events I didn't have much to compare it to since this is my first year in FBLA but I still thought competing was fun even if it was virtual," she said. "What I liked about the conference was getting to hear about the variety of other events and learning more about FBLA in general."
Each State Leadership Conference also features open events, which are tests that all conference attendees may choose to take based on their interests. Participating in three open events, Kenna Mullins placed fourth in Human Resources, sixth in Financial Literacy, and eighth in Job Readiness.
For the regular competition, Kenna chose to compete in Agribusiness, which has been a rare category choice for Oxford students over the past several years. "Agriculture has always been very important to me and my family," she explained. "As a child I spent many days at my grandparent's farm where I learned a lot about taking care of animals and growing crops.
"In recent years I have become more interested in the industry from watching my sister become involved in the local farm bureau association. I understand how important agriculture is in all corners of the world, as it contributes not only to feeding the human population, but also has an immense impact on the economy."
In addition to her competitive events, Kenna said she enjoyed attending the virtual workshops that were offered throughout the conference. "I learned a lot from each of them," she said. "My favorite speaker was a CEO who had written a book and they mailed us a free copy of it to read. I also enjoyed that the open competition tests were all spaced out on different days so I was able to participate in more than one."
This year's State Leadership Conference was the second in row that Samantha Dunlap attended virtually. Last year she was part of a team that competed in the Social Media Campaign event and qualified to advance to the national conference and competition.
Samantha felt that participating in the marketing event was a logical follow-up to the social media category, and gave her an opportunity to develop her skills in graphic design. Although she competed virtually at the state and national levels last year, Samantha continued to find challenges in this method of participation.
"Participating in the competition virtually was like a whole new world, having to learn how to upload video for the judges to see and then also having to convert the video from our Microsoft Teams meeting to be able to download it," she said.
"However, I found it very interesting and motivating how FBLA was able to make the state competition virtual both this year and last year in such little time."
Attending the conference for publication design, Jordan Kane agreed with Samantha's assessment. "Something that I enjoyed about the virtual state conference is that we got to film on our own time and not feel any pressure from judges sitting right in front of us," she said. "I felt as though it allowed us to be more confident.
"It was definitely different competing virtually, and sometimes it was difficult to film with other people through the screen, but we made it work."
Alexa McCormick said she chose her category with an eye toward continuing her education after graduation. "I will be majoring in political science in college next year, so I wanted to have the opportunity to research and learn about material that is not covered as heavily in our high school curriculum," she said. "The final test was more of a test of what I had learned and as a guide on how to prepare for my college courses. Being able to prove myself competitive in the political science category was a super-fun experience."
Alexa said that she found participating in the virtual conference to be a refreshing change. "I appreciated the more laid back experience!" she said. "Testing in a room of nervous students does not always help my own nerves, so being in my own home was a bit more comforting."