Return to Headlines
OAHS teacher wins county Citadel Heart of Learning Award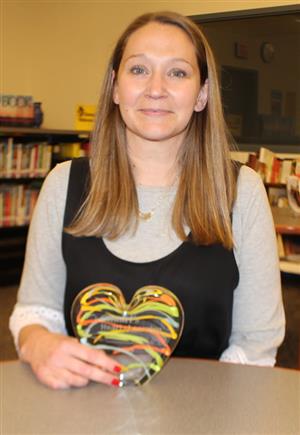 Oxford Area High School English teacher Carynne Burnett is the county-wide recipient of the 2019 Citadel Heart of Learning Award for secondary school teachers. Sponsored by Citadel Federal Credit Union and the Chester County Intermediate Unit, the annual award recognizes the outstanding job Chester County's teachers perform in educating and caring for our young people.
In March, Mrs. Burnett was named the Oxford Area School District's finalist for the county award. At that time she received a finalist trophy and $500 for classroom use.
Along with 14 other finalists for the county award, Mrs. Burnett attended the annual Heart of Learning banquet on May 7. As winner of the award for secondary school teachers, she received another trophy and an additional $1,500.
"The banquet was awesome, and incredible, and overwhelming," said Mrs. Burnett. "Citadel does such a great job of making every teacher feel special. I felt special from the moment I walked into the ceremony, but I wasn't even really thinking about this leading to an ultimate award. I was thinking, 'Wow, they really make teachers feel so good.'"
Mrs. Burnett was moved by how the entire awards banquet centered not only on the award finalists, but the impact that Chester County's teachers have on young lives. The finalists themselves were featured in a video which included footage of their classroom lessons and students reading from their nomination letters.
Mrs. Burnett said her feelings were only heightened when her name was announced as one of the evening's three award winners. "I was in shock, and I wasn't really prepared," she said. "I did not sound like an eloquent English teacher when I made my remarks!"
For Mrs. Burnett, the highlight of the ceremony was having her husband, Joe, and their daughters with her at the banquet. "My husband does so much to help me be the best teacher I can be," she said. "Things like just being so patient at home when I'm grading papers for hours are incredibly supportive.
In March, Carynne Burnett was named Oxford Area School District finalist for the county Citadel Heart of Learning Award. From left are Oxford Area High School Principal James Canaday; Mrs. Burnett; Abigail Brooks, corporate communication manager for Citadel Federal Credit Union; and Ashley Boyd, Chester County Intermediate Unit communications specialist.
"Both my daughters are so supportive as well," she said of Belle, a sophomore at OAHS, and Jaycie, a third grader at Nottingham Elementary School. "My oldest was just crying when I returned to our table after accepting the award. To see how proud she was meant so much to me."
Also attending the banquet was Oxford Area High School Principal James Canaday. "Mrs. Burnett is a true professional and model educator," he said. "She cares about her students and exemplifies this through her words and interactions with them on a daily basis. In the classroom, Mrs. Burnett sets the bar high for all students and works with them to meet their fullest potential."
Mrs. Burnett grew up in Exton loving to read and write. "I always wanted to think about what I would read and apply it to world situations, and because I also loved to write, my strengths always lent themselves to English," she said.
At the same time Mrs. Burnett knew she wanted to pursue a career in education. "I always wanted to be a teacher, and it was my late high school and early college years that really solidified teaching high school English as the career I wanted," she said.
Mrs. Burnett earned a bachelor's degree in English from West Chester University in 2002 and began teaching at Oxford Area High School in 2004. She received a master's degree in Professional and Secondary Education from West Chester in 2012.
Mrs. Burnett currently teaches ninth and 12th grade Honors English and 12th grade AP literature and composition. She is the faculty advisor to the Class of 2021 and the National English Honor Society, which recently sponsored the high school's first Speech Contest to great response from the student body.
Mrs. Burnett's 15 years in teaching have seen massive changes in how young people consume and understand literature, with advances in technology having an impact both at home and in the classroom. "With the internet and social media, the relevancy of the literature I teach changes a bit," she said. "All literature is relevant, but the relevancy changes depending on what's happening in our society and the world at large."
Mrs. Burnett agreed that the technological advances of the past 15 years have had the greatest effect on how she teaches and how students learn. "When I started teaching, the technology was not so accessible to the students – I did not fight the cellphone battles," she said. "I've read many studies on the benefits of reading from an actual book as opposed to reading on an electronic device, but trying to have students read from a print book becomes more and more challenging."
For Mrs. Burnett, these changes are simply a result of a society that now, more than ever, offers individuals the opportunity for instant gratification. "With that, it can be harder for students to understand that writing takes work and constant revision," she said. "The first thing they write is never going to be the final product. Having everything at our fingertips has changed the traditional mindset of knowing you'll have to write more than a first draft to write successfully."
Mrs. Burnett will take the summer to think about how she will use the $2,000 in award money for her classroom in the new school year. "I'm thinking about a new series of books, or equipment to make the classroom more comfortable for the students and more conducive to learning," she said. "It will go back to the students, because they really gave me this award."