Return to Headlines
OAHS Sports Wall of Fame Induction
Oxford Area High School Sports Wall of Fame Class of 2019
Oxford Area High School held the 19th annual Sports Wall of Fame Induction on October 14, honoring outstanding student-athletes from throughout the history of OAHS sports. Each inductee received a commemorative plate from Lancaster County Redware courtesy of Shirley Hess, and a photograph of the group will be permanently displayed in the high school. Prior to the induction ceremony, a permanent plaque honoring the late Kenneth Howett, longtime teacher and athletic director and a founder of the Sports Wall of Fame program, was unveiled on the wall of the high school gymnasium.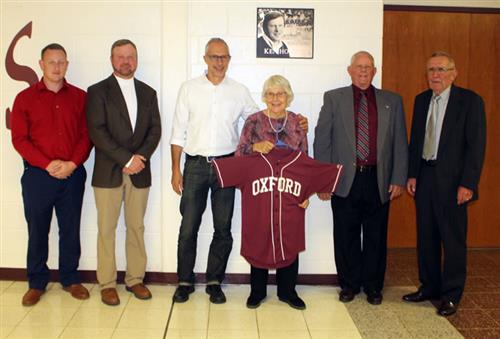 Pictured at the unveiling of a permanent plaque honoring the late Ken Howett, longtime Oxford Area High School teacher and athletic director, are (from left) Athletic Director Michael Price, Superintendent of Schools David Woods, Mr. Howett's son Mike, Mr. Howett's wife Cookie, former athletic director Rich Frampton and former high school principal Ken Woodward, host of the Wall of Fame Induction.
Since its establishment in 2001, the high school has held a reception and induction ceremony each fall which is free and open to the community.

Pictured from left are 2019 Sports Wall of Fame inductees Dale Edwards, Michael Draper representing his father Richard "Bud" Draper, Meredith Henry Musselman, Clyde Prigg and Stacey Pinno Maurer.
Rihcard "Bud" Draper, Class of 1953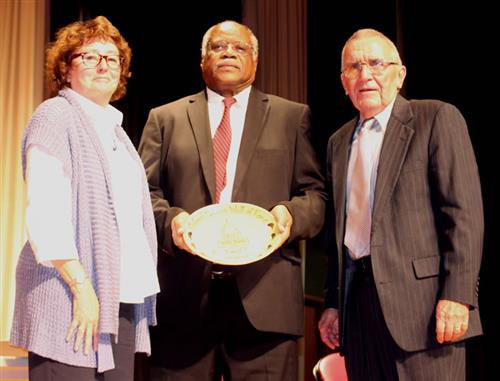 Michael Draper with Sports Wall of Fame hosts Roberta McManus and Ken Woodward
The late Mr. Draper compiled 13 varsity letters while competing in track, basketball, soccer and baseball. He is the third member of the Class of 1953 to be inducted to the Sports Wall of Fame.
After high school, Mr. Draper joined the U.S. Air Force and served around the United States and the world. While in the service, he was a standout in baseball, softball, basketball, boxing and volleyball.
Mr. Draper retired from the Air Force after 20 years and settled in San Antonio, Texas. There he became an official in several sports at the high school and collegiate levels.
Clyde Prigg, Class of 1970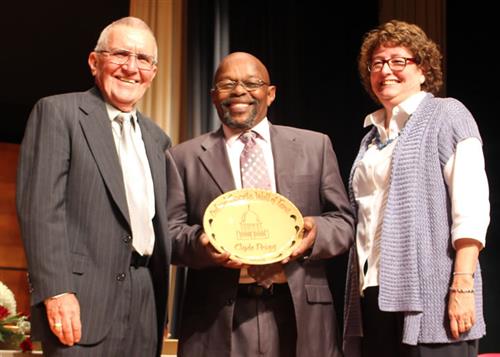 Mr. Prigg was an outstanding wrestler and a standout in cross-country and track & field events, earning 11 letters. As a sophomore, he won the two-mile run at the Southern Chester County League meet.
Mr. Prigg transitioned to sprinting events as a junior, and placed second at the district event in the low hurdles competition. He held the school record in this event with a time of 19.9 seconds, and was named Track Athlete of the Year in 1970.
Mr. Prigg was also a versatile wrestler, competing in the 103-pound weight class as a freshman and reaching the 127-pound weight class his senior year. He was a member of several championship teams and was undefeated in the Southern Chester County League during his junior year.
Dale Edwards, Class of 1974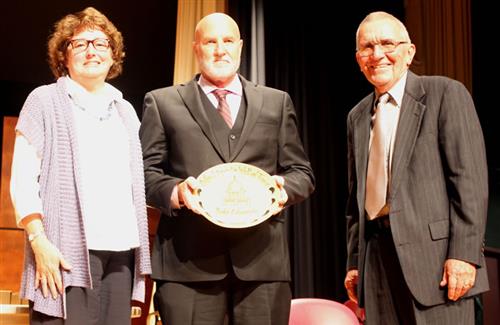 Mr. Edwards achieved many high points during his time competing as a wrestler. During his sophomore season in 1972, he compiled a 14-5-1 record, becoming the first Oxford wrestler to reach the district tournament.
In his junior season, Mr. Edwards improved to 19-2, which was a school record at the time. He won the league championship in his weight class during that season and was named team MVP.
More achievements for Mr. Edwards came during his senior season, when he compiled a 23-4 record and captured another league championship. He went on to become a sectional and district champion. He qualified for the state tournament where he earned a fourth place medal, the highest finish ever for a Southern Chester County League wrestler at that time.
Mr. Edwards finished his career at Oxford with a record of 57-10-1.
Meredith Henry Musselman, Class of 1997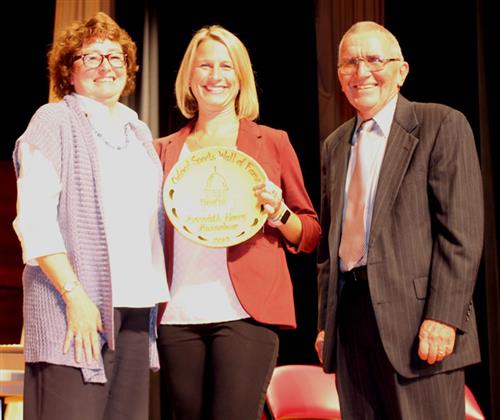 Mrs. Musselman was a standout in field hockey and track, played basketball her sophomore year, and was a member of the swim team her senior year. In track, she set a school record in the 400-meters as a sophomore and took first place in the Southern Chester County League finals.
Mrs. Musselman also earned numerous honors in field hockey. As a junior she was co-MVP, a second team All Southern Chester County League selection and All-Area honorable mention.
In her senior year, Mrs. Musselman scored winning goals in the first two rounds of the district playoffs. That year she was a first team All-SCCL selection and particpated in the U19 National Indoor Hockey Championships.
Mrs. Musselman went to college at Shippensburg University, where she was the field hockey team's leading scorer as a sophomore and senior. As a junior she was awarded the first Jane G. Gross Field Hockey Scholarship, which is presented to a player who demonstrates high standards of character, sportsmanship and leadership.
At the conclusion of her college career, Mrs. Musselman was the fifth highest goal scorer in Shippensburg history.
Stacey Pinno Maurer, Class of 2008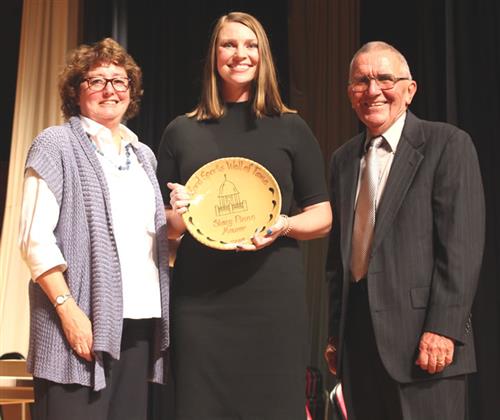 Mrs. Maurer was a top catcher on Hornet softball teams that won three division titles. These teams were the first in school history to advance to the district tournament.
Mrs. Maurer hit over .400 in three of her four years at Oxford, and was named team MVP three times. She received a full scholarship to the University of North Carolina, Wilmington. In her sophomore season in college, she played in all but one game and compiled a .980 fielding percentage over four years.