Return to Headlines
OAHS Sports Wall of Fame Induction
Oxford Area High School Sports Wall of Fame Class of 2018
Oxford Area High School held the 18th annual Sports Wall of Fame Induction on October 15, honoring outstanding student-athletes and community supporters from throughout the history of OAHS sports. Each inductee received a commemorative plate from Lancaster County Redware courtesy of Shirley Hess, and a photograph of the group will be permanently displayed in the high school.

Since its establishment in 2001, the high school has held a reception and induction ceremony each fall which is free and open to the community.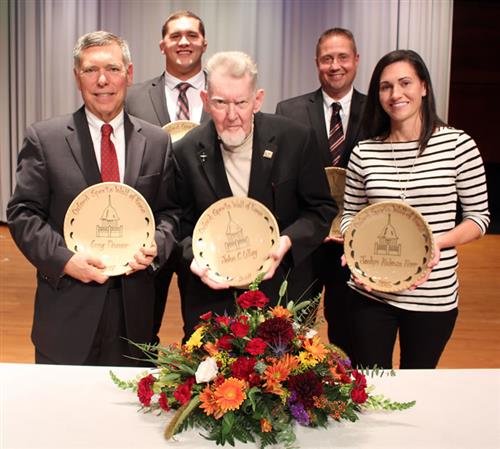 Pictured from left are 2018 Sports Wall of Fame inductees Greg Deaver, Nicholas Ruggear, John C. Lilley, Sean Harvey and Jaclyn Kulesza Herr. Nicolle Blaesser Monette is not pictured.
Greg Deaver, Class of 1974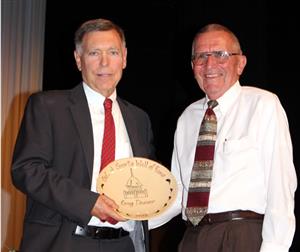 Mr. Deaver with Sports Wall of Fame host Ken Woodward
In 1974 Mr. Deaver was a varsity wrestling champion at the sectional and district levels and earned second place at regionals. Serving as captain, he helped lead that year's team to the league championship.

In soccer, Mr. Deaver led the varsity in scoring his senior year and was named team MVP. He was selected as a Philadelphia Bulletin Scholar Athlete in 1974.
Nicolle Blaesser Monette, Class of 2003
Mrs. Monette earned all-district and all-state honors in cross-country, placing seventh in the state. In track and field she was a state qualifier in the 3,200 meters.
At Indiana University of Pennsylvania, Mrs. Monette was the 2007 PSAC East Regional cross-country champion and was named an NCAA Division II All-American. She was also a 2007 Academic All-American and was that year's IUP Scholar Athlete of the Year.
Jaclyn Kulesza Herr, Class of 2004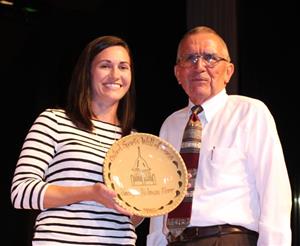 In field hockey, Mrs. Herr was named to the All-Southern Chester County League First Team for three seasons. She was named 2004 team MVP.

At Millersville University, Mrs. Herr was named Rookie of the Year and led the field hockey team in goals and assists in all of her four years. She holds the university's record for most goals scored in a game at four, and was named to the All-PASC Second Team in her sophomore, junior and senior years.
Nicholas Ruggear, Class of 2010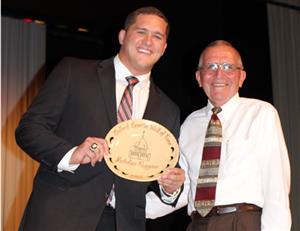 In wrestling Mr. Ruggear was a three-time section champion and three-time state qualifier, bringing home a third place medal on one of his trips to states.

Mr. Ruggear logged 131 victories in his high school career and was named 2010 Ches-Mont League Wrestler of the Year. As a senior he was ranked fifth in the United States.
At Penn State, Mr. Ruggear earned four varsity letters and four Big Ten championships, and helped the Nittany Lions to four national championships. He also received the Big Ten's Distinguished Scholar Award.
Sean Harvey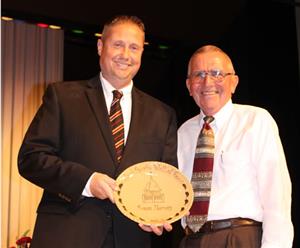 Mr. Harvey guided the boys' varsity basketball team to a 223-112 record during his tenure as head coach. He was a four-time conference Coach of the Year and was named The Philadelphia Inquirer Coach of the Year in 2004.
Between 2004 and 2014 Mr. Harvey's teams were ranked among the best in the state and qualified for the PIAA playoffs four times. He coached four conference Players of the Year during his career at OAHS.

John C. Lilley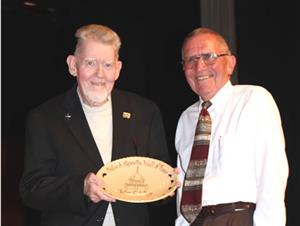 Mr. Lilley was a clock operator at Hornet athletic events for 44 years, and manned the clock for the Oxford Golden Bears as well. He also was clock operator at countless district and sectional wrestling tournaments.
Previous Sports Wall of Fame Inductees
Ray Stata, Class of 1953
Judy Shoop, Class of 1976
Shawn Jones, Class of 1990
Craig Mahon, Class of 1999
Meredith Dolinger Hostetter, Class of 2005
Jack Melrath, Class of 1955
Susan Burke Mast, Class of 1959
Dana E. Dreibelbis, Class of 1974
Karen A. Doss Barlow, Class of 1982
Erin Arrowood Fidler, Class of 2002
The Hess Family
2015
Vernon M. Ringler, Class of 1953
Richard Gary Cummings, Class of 1954
Scott Fowler, Class of 1981
Beth Jackson Lynch, Class of 1981
Ryan Bogan, Class of 2005
Karly Herb, Class of 2008
Thomas Grugan, Coach

2014
George "Buddy" Cochran, Class of 1949
Dave Hons, Class of 1980
Sherri Jackson Griffith, Class of 1983
Dayna Baily, Class of 1987
Lisa Marie (Rozich) Stoltzfus, Class of 1998
Julie Orner Donell, Class of 2000
2013
Kathryn "Kitty" Jamison Aylsworth, Class of 1935
Alma Doyle Barton, Class of 1974
Janine Collins Pavese, Class of 1983
Jamie Canaday, Class of 1994
Kimberly Vaughn Stout, Class of 1996
Meghan Tait, Class of 2008
2012
Dr. Anthony Bering, Oxford Sports Boosters Founder

Scott Gold II, Coach

Richard Jones, Class of 1974
Mark Hall, Class of 1975
Allison Hostetter, Class of 2007
Ashley Palmer, Class of 2007
2011
Donald Bailey, Class of 1948
Richard Farmer, Class of 1971
Bernie Hostetter, Class of 1980
Leigh Ann Brown Ennis, Class of 1989
Clyde and Shirley Hubley, Supporters

2010
Doug Woodworth, Class of 1935
Ralph Dutton, Class of 1946
June Johnston, Class of 1980
Kelli Ward, Class of 2004
Jarrett Hostetter, Class of 2005
2009
C. Paul "Dutch" Jamison, Class of 1938
Joan Bernhang Waldbaumm, Class of 1948

Allan Hardy, Class of 1955
Kim Tatum Robbins, Class of 1978

Martin Sumner, Class of 1992

Ben Blevins, Class of 1996
2008
Palmer "Peck" Watkins, Class of 1946

Pat Owens McCardell, Class of 1960

John Peter Wolf, Jr., Class of 1966

Drew Eckman, Class of 2003

Josh Weitzel, Class of 2003

2007
J. Marshall Thompson, Sr., Teacher, Principal and Coach, 1925-56

Joe Thompson, Class of 1944

Barbara Rogers, Class of 1957

Sam Webster, Class of 1962

Robert Nelson, Class of 1963

Kimberly Kilby McCardell, Class of 1981

Antoinette Gomez, Class of 1990

2006
Dale Melrath

Robert Pepple
Carolyn Rozich Sedora

Bob Stahlman
Donna Kinslow Wells
Dave Williams
2005
George Bea
Barry Hostetter
Josianne Lauber
Pat Mosley
Liz Mason Thun
2004
Nathan Burroughs
Susan Pepple Greer
John Hostetter
John Noonan
Bill Ringler
2003
James Aylsworth
Bill Bard
Donna Draper-Gray
David Neff
Hans Olsen
Timothy Robinson
2002
Benny Bond
Judy James Davis
Scott S. Gold III
Ken Howett
Paul Poole
2001
Bill Bea
Francis Coates
Jonna Jackson Davis
Donald Dyer
Eileen Draper Jones
Dan Kilby
Horatio Viscount "Berky" Nelson
Charles Peterson
Doug Sersun
Josh Stanley