Return to Headlines
OAHS guitar program resonates with music educators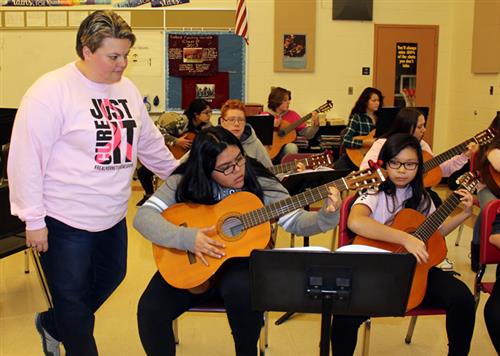 Oxford Area High School band director Dr. Erin Kauppila, with freshmen students Paola Garcia and Jennifer Lenge, established the high school's guitar program 13 years ago.
Like anyone interested in learning to play the guitar, Oxford Area High School band director Dr. Erin Kauppila started slowly, strumming basic chords and eventually learning some rudimentary finger-picking. But while most beginner guitarists teach themselves or take lessons in a pressure-free environment, at the same time Dr. Kauppila was learning to play, she would soon be responsible for teaching the fundamentals of acoustic guitar to 100 students each day.
This was 13 years ago, not long after Dr. Kauppila came to OAHS to teach band and music theory and conduct pull-out instrumental lessons. Today she is an accomplished guitarist, and the beginning guitar program she established remains one of the high school's most popular electives.
Because high school guitar courses and information on how to start one were extremely rare a decade or more ago, Dr. Kauppila had no choice but to learn as she went along. After 10 years of teaching the class, she decided it was her responsibility to share her knowledge with music educators across Pennsylvania and in other parts of the country.
Dr. Kauppila created a presentation called "Keep Calm, Don't Fret: A Great High School Guitar Program is at Your Fingertips," which she has presented at many professional conferences to great response. So much so that she was chosen for the high honor of serving as a featured clinician at the 2019 Pennsylvania Music Educators Association/National Association for Music Education Eastern Division Conference to be held from April 4 to 6 in Pittsburgh.
"In the presentation I talk about building a beginner guitar program from the perspective of a non-guitarist," said Dr. Kauppila. "I was not a guitar player when the course began, and it was a challenge to teach an instrument I'd never really played before.
"Actually there are very few high school instrumental teachers who are guitarists. Most play a band or orchestra instrument or they are vocal teachers who play piano."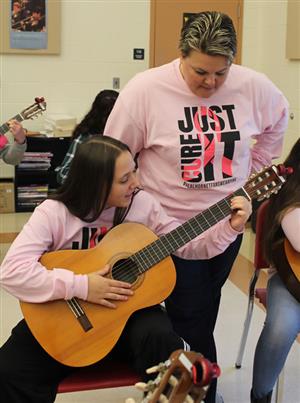 Dr. Kauppila with junior Caitlyn Coverly, a student in the high school's beginner guitar class.
The program has advanced steadily over the past several years, and now in addition to four beginner classes of 24 students each, Dr. Kauppila teaches two advanced courses. She noted that students have the opportunity to take the class from freshman year on, and many have kept with it for up to six semesters.
"If a spot opens in one of the classes, it's immediately filled," said Dr. Kauppila. "The guitar really has the potential to be that thing students find they really love."
Dr. Kauppila is particularly proud of providing students with the opportunity to play in a guitar ensemble, which now performs during the high school's holiday and spring concerts. "Now all of a sudden we're not just reaching kids by having them play in class but we're also putting them on stage, many for the first time since their fourth grade choir concert," she said. "It's so cool that their families can come and see them perform."
Dr. Kauppila said that a primary goal of the course is simply to help her students develop a hobby they can take beyond their high school years. "There are many brands of good, affordable guitars," she said. "It's easy to find guitar music and lessons online. I'm really happy just giving them the tools to be able to play for the rest of their lives."
Dr. Kauppila said that after one semester of the class her students will know about 17 chords. But her focus is more on what she described as the physical skill of playing rather than the mental skill of reading music.
"That took me a while to figure out," said Dr. Kauppila. "When I started the class I was really focusing on the music reading, but then I realized the students need to be able to just feel comfortable with the physical act of playing to feel successful.
"So I'm no longer so focused in on a lesson book. We do a lot of work with pop music, using videos and playing along with tracks. The class members also need free time to explore the music they love, and they can use the internet and YouTube tutorials on their iPads to assist in the process."
In her presentation, Dr. Kauppila assures newly-minted and potential guitar teachers that once the course begins they will have students who are already accomplished on the instrument. "I have students come in who are great guitarists," she says with a smile. "That doesn't mean I can't teach them some new things, but I can also learn from them, which is awesome."
Noting that the overall theme of this year's Pennsylvania Music Educators Association/National Association for Music Education Eastern Division Conference involves bringing more students into general music programs, Dr. Kauppila saw her presentation as a natural fit. "We need to reach more kids who are not your usual band and chorus students," she said, adding that the presentation touches on methods to increase interest among students who may not initially be enthusiastic about taking a general music elective.
"So much has changed in music education over the past several years," said Dr. Kauppila. "I used to think that if I was not always teaching, my students weren't getting the knowledge they needed.
"I eventually realized I needed to give them five minutes here and there just to work on things and stay out their way. Students need to be engaged and to be the ones doing it, and we as music educators sometimes need to step back and just be there as a guide. The guitar program is perfect for that."