Return to Headlines
OAHS students a hit at film festivals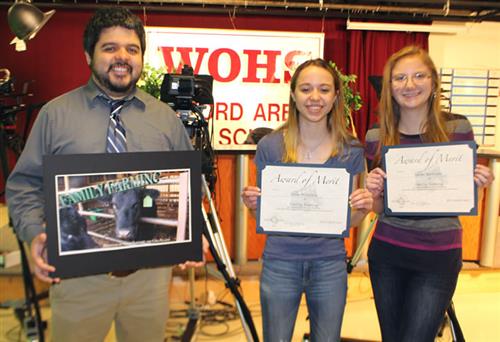 Oxford Area High School seniors Gina Pilaitis, center, and Sarah Bartlett, with TV & Video Production IV course teacher Christopher Pierdomenico, received an Award of Merit for their documentary short, "Family Farming," at the 2019 Behind the Lens student film festival held April 25 at William Tennent High School in Warminster, PA.
Five Oxford Area High School students were recently honored at two student film festivals in the Philadelphia area.
Seniors Gina Pilaitis and Sarah Bartlett, students in Christopher Pierdomenico's TV & Video Production IV course, received an Award of Merit for their documentary short, "Family Farming," at the 2019 Behind the Lens festival held on April 25 at William Tennent High School in Warminster, Pennsylvania. Juniors Madden Sessa, Nick Landgrebe and Tyler Brooks were nominated for Best Cinematography for their short film, "Gone," created for Mr. Pierdomenico's TV & Video Production II course, at the 2019 Greenfield Youth Film Festival held April 27 in Ft. Washington, Pennsylvania.
Gina and Sarah participated in the Behind the Lens festival with students from five area schools. In addition to their documentary, they also entered a short comedy called "The Backpack." Overall, approximately nine documentaries and four comedies were entered, in addition to several narrative and experimental films.
"Family Farming" tells the story of the Bell Family, all of whose members help to raise cattle on their Oxford farm. Gina and Sarah's families have known the Bells for nearly a decade and the students are members of the Class of 2019 with daughter Kaitlin Bell.
"My mom suggested that the Bells might be a good subject for a film," said Sarah. "Gina and I have always admired how the entire family works on the farm. They do everything together and enjoy being with each other."
Sarah and Gina have been friends for nine years, and have partnered on several projects in Mr. Pierdomenico's courses. However, the "Family Farming" project would be the first time they would combine all the skills they have learned in TV & Video Production to create a fully-realized film.
"We started by planning out the shots we wanted to get, then decided on who we wanted to interview," said Gina. "When we had a good idea of what the film would be, we contacted the Bell family to present the project and get their permission to talk to them and film them on the farm."
The students filmed on a cold day in February on land that was muddy from recent rains. "The mud made it hard the keep the camera tripod steady," said Sarah. "It kept sinking."
The film opens with an impressive shot of one of the Bells' cattle walking past the camera as Mr. Bell drives a farm vehicle in the background. "One of the biggest problems was getting the cattle to move," noted Gina.
"Family Farming" took about one month to complete. "Most of that time involved editing," said Sarah. "We especially needed to make the interviews flow naturally after doing a lot of takes while we were filming."
Mr. Pierdomenico was impressed by the finished work, and suggested that Gina and Sarah enter it in the Behind the Lens festival, which features projects by the students of a group of area TV & Video Production teachers who correspond regularly to share ideas. "The classes I teach are considered to be technical education, but I really see myself as a teacher of storytelling," he said. "While the film Gina and Sarah made is outstanding technically in regard to the cinematography and sound, it just told a story very well, and one that I think resonates with a lot of people in this community. For me that's what made the film award-worthy."
Mr. Pierdomenico praised the poise and maturity the students demonstrated in bringing the project to completion. "They both know how to improvise on the spot when something unexpected comes up or things don't go according to plan," he said. "They know how to rally together and figure out a solution. Sarah and Gina are two of the best student filmmakers that I have taught and I'm very proud of them."
"We've been friends for 10 years and have always had each other's back," said Sarah, noting that she and Gina have partnered on creative projects since they were in third grade. "We've always helped with whatever the other needed, and in this course it's worked out really well. We're so willing to collaborate and help each other out, and we just get each other. There's never any miscommunication when we're working on a project. We're on top of it, together."
Mr. Pierdomencio accompanied Gina and Sarah to the Behind the Lens festival, and although they were among the evening's honorees, neither plans to make TV & Video Production their course of study following graduation. A talented artist, Gina has been accepted to the Pennsylvania Academy of Fine Arts and is waiting to hear from New York University as she plans to study for a degree in fine arts. Noting that "Gina brings out the artistic side of me," Sarah will study engineering at the University of Delaware.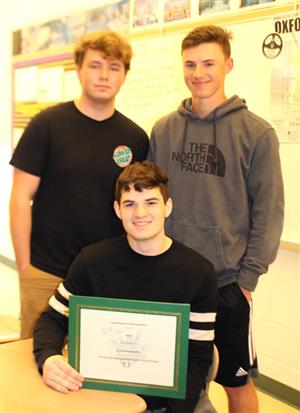 Oxford Area High School juniors Madden Sessa (seated), Nick Landgrebe (standing left) and Tyler Brooks, were nominated for Best Cinematography for their short film, "Gone," at the 2019 Greenfield Youth Film Festival held April 27 in Ft. Washington, PA.
While Gina and Sarah's creative partnership has developed over many years, for Nick, Tyler and Madden, "Gone" was a first-time collaboration. Also unlike their senior counterparts, the three juniors are all interested in studying for careers in the film industry.
"Gone" is a tight, three-minute narrative featuring Tyler and Nick, who on an otherwise ordinary day stumble across an abandoned building and immediately find themselves pursued by a mysterious antagonist. The pursuit continues for the remainder of the film, and does not end well for Tyler and Nick.
"We thought a thriller would be different because not a lot of students in Mr. Pierdomenico's courses do them," said Nick. "We knew it would be a good challenge for us to film and edit. After we came up with the idea for a script, we took a lot of time to make sure it was going to work."
In a somewhat unusual decision, the students filmed for an entire day in Port Deposit, Maryland. "We just felt the scenery there is different," said Tyler. "It's an 'off' kind of place that we thought lent itself to the story."
Using a Nikon DSLR and a GoPro, the students spent an entire cold day in November shooting footage. "We got some stares from people when they saw us walking around and climbing hills with all this equipment," said Nick. "We had a lot of people honking their car horns too."
From the beginning of the project, Nick and Tyler knew that Madden would be the one to use his formidable editing skills to turn the footage into a cohesive narrative. "It was interesting to edit because I wanted to stay away from the clichés that most thrillers use," said Madden. "I decided to use a lot of flickering effects in time with the soundtrack, which I think sold the suspenseful vibe."
After seeing "Gone," Mr. Pierdomenico encouraged the students to enter it into the Greenfield Youth Film Festival, which his students have participated in for half of its 10-year existence and brings together filmmakers from 25 area schools. "Technically it is a really well-made film," he said. "It looks like something I would come across in a film festival outside of school. The cinematography is excellent and the editing, pacing, sound design and camera shots really kept me engaged the whole time. It feels like a really exciting thriller."
Because of the large number of entries, the Oxford students' film was not shown at the Greenfield festival in April. And though they did not win the Best Cinematography award, the three juniors enjoyed the event, which they attended with Mr. Pierdomenico.
"It was a little bittersweet, but we didn't go there with any expectations," said Nick. "It was very cool to see other people's films and projects and compare them to ours. We worked very hard on the film but it was not with any idea of winning an award. I don't think any filmmaker feels that way when working on a project."
By this time next year Nick, Tyler and Madden will be completing TV & Video Production IV with Mr. Pierdomenico and looking forward to graduation. Nick is interested in film study, possibly at Full Sail University in Florida; Tyler is also interested in studying film but hasn't made any decisions; while Madden in interested in both filmmaking and acting.