Return to Headlines
OAHS holds first school-wide Speech Contest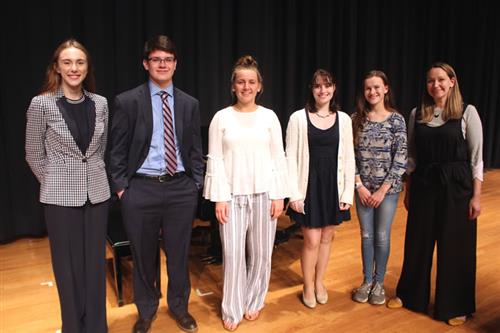 The finalists of the first Oxford Area High School Speech Contest were, from left, senior Ashley Dively, juniors Mason Clark, Cameo Powell and Sierra Cullen and sophomore Danielle Kehs, with National English Honor Society faculty advisor Carynne Burnett.
The Oxford Area High School Bildungsroman Chapter of the National English Honor Society recently sponsored the first school-wide Speech Contest. The three-round competition culminated on May 13 with five finalists delivering original speeches on the theme of "Life and Literature" to the student body.
Twenty-five students in all grade levels entered the contest, and over the first two rounds delivered previously-published speeches of their choosing. The first two rounds were judged by a group of 12 teachers who considered content choice and speaking style to select the students who would advance, with 10 contestants moving to the second round.
The final round was judged by a panel including actor Brian Anthony Wilson, whose more than 160 credits include the films Ocean's Eight, Creed and Silver Linings Playbook as well as the TV series Blue Bloods and Law and Order: Special Victims Unit; local author Diane Salerni, who has published numerous works of historical fiction for young adults; and OAHS graduates Dylan Coyle and Ali Miller, who are now working in the field of broadcast media. Before the afternoon finals, each of the judges held Q&A sessions with groups of students to discuss their work.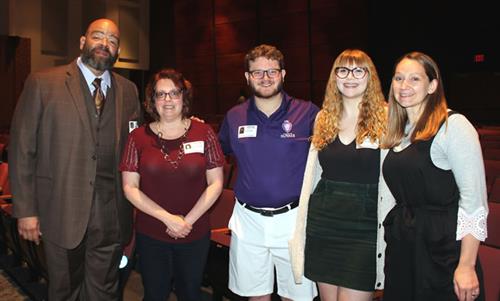 The guest judges for the final round of the speech contest were, from left, actor Brian Anthony Wilson, author Diane Salerni and OAHS graduates Dylan Coyle and Ali Miller, with Mrs. Burnett.
The judges chose senior Ashley Dively as the first place winner for her speech entitled "My Generation," during which she spiritedly maintained that today's high school students are reading as much as previous generations, but in dramatically different ways due to digital technology and social media.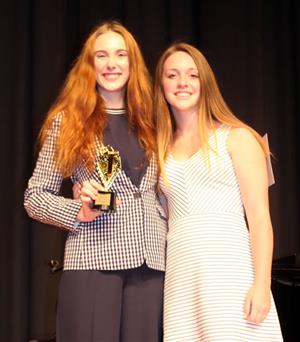 Ashely Dively receives her first place trophy from National English Honor Society member Elizabeth Bailey.
National English Honor Society chapter advisor Carynne Burnett was extremely pleased with the response to the speech contest. She noted that before her family moved to Oxford, a speech contest was an annual event at the school previously attended by her daughter Jaycie, a sophomore at OAHS.
"I proposed the idea for NEHS to sponsor a similar contest here at Oxford and the chapter members were very excited about it," said Mrs. Burnett. "The faculty judges and I were so impressed with the speeches in the first round that we decided to have more students advance to the seocond round than we originally planned. The scores were so close on the rubrics and the students did such an amazing job. We have a lot of really impressive students at the high school."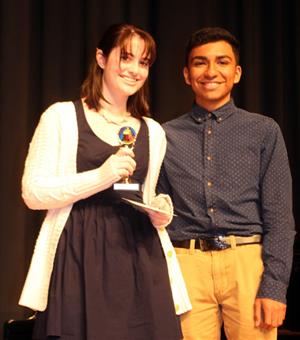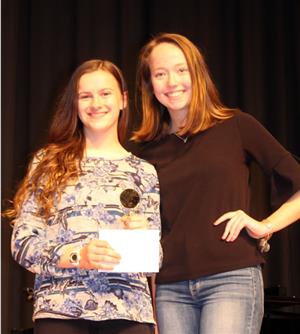 Sierra Cullen received her second place trophy from NEHS member Saul Torres for her speech entitled "Learning Life and Love Through Literature." Danielle Kehs received her third place trophy from chapter member Gabbie Burton for her speech entitled "How Mankind Has Evolved Through Literature."