Return to Headlines
OAHS NHS chapter inducts new members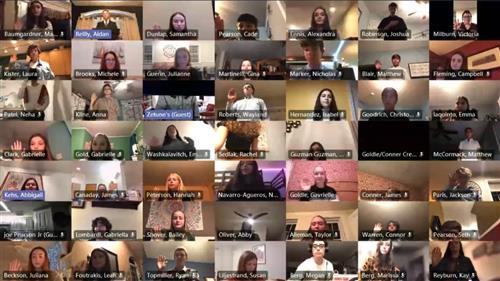 Forty-eight Oxford Area High School students were inducted as new members of the National Honor Society (NHS) in the organization's first-ever virtual ceremony on November 19.
Members are evaluated and selected based on requirements of maintaining a cumulative GPA of 3.5 and meeting high standards of scholarship, service, leadership, and character. "National Honor Society members are chosen for and then expected to continue their exemplary contributions to the school and community," said Michele Brooks, chapter co-adviser.
Co-adviser Suzy Liljestrand added, "We are very proud to recognize these outstanding members of our student body. This year in particular, they have shown extraordinary dedication in spite of very difficult circumstances."
Each year the Oxford NHS chapter sponsors several service projects for the school and community which in the last few years have included Red Cross Blood Drives, the high school's annual Holiday Festival for area families, tutoring, and a Mini-thon for cancer research.
NHS ranks as one of the oldest and most prestigious national organizations for high school students. There are chapters in more than 16,000 high schools and, since 1921, millions of students have been selected for membership. Millions of dollars in scholarships have been awarded to senior members since 1945 by the sponsoring organization, the National Association of Secondary School Principals.
"Our members would not be able to be the extraordinary people they are without the help of others," said Mrs. Brooks. "We would like to recognize the parents, family members, teachers, club advisors, coaches, administrators, school board members, community leaders and partners who have made the induction process possible and enabled our students to flourish academically and through civic duty in our school and community."
The new NHS inductees are Taylor Alleman, Madison Baumgardner, Juliana Beckson, Megan Berg, Miranda Berg, Marissa Berg, Matthew Blair, Gabrielle Clark, James Conner, Joseph DiNapoli, Samantha Dunlap, Alexandra Ennis, Campbell Fleming, Leah Foutrakis, Mia Gerrard, Dylan Gerrard, Gabrielle Gold, Gavrielle Goldie, Julianne Guerin, Andreilav Guzman Guzman, Katherine Hanna, McKenzie Hendrickson, Emma Iaquinto, Jordan Kane, Abbigail Kehs, Laura Kister, Anna Kline, Kiersten Martin, Gina Martinelli, Matthew McCormack, Victoria Milburn, Nahomy Navarro-Agueros, Daniel Nowland, Abby Oliver, Jackson Paris, Neha Patel, Cade Pearson, Seth Pearson, Hannah Peterson, Kay Reyburn, Wayland Roberts, Joshua Robinson, Rachel Sedlak, Bailey Shover, Ryan Topmiller, Connor Warren, Emily Washkalavitch and Emiliano Zetune.