Return to Headlines
Interact, EarlyAct chapters induct new members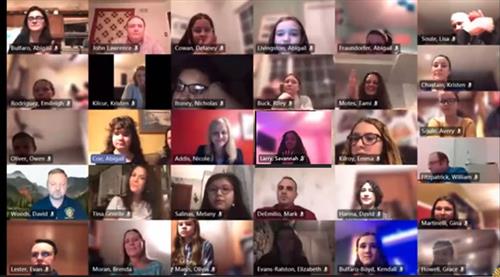 Members of the Oxford Area High School Interact chapter and the EarlyAct chapters at Hopewell and Penn's Grove schools during recent virtual induction ceremonies. Guests included State Representative John Lawrence and Oxford Area School District Superintendent David Woods.
The Oxford Area High School chapter of Interact and the EarlyAct chapters at Penn's Grove and Hopewell Elementary schools recently came together virtually to hold ceremonies to induct new members and install officers.
Interact and EarlyAct are sponsored by local Rotary Clubs through Rotary International and welcome students at all grade levels who are interested in serving their school and community. Each school year members of Interact and EarlyAct plan and organize three projects to benefit their school, local and global communities.
During the ceremony, EarlyAct and Interact members outlined their chapter's three projects. Hopewell EarlyAct member Abigail Coe said that by the end of the school year, the chapter will have organized a peanut butter and jelly sandwich drive for donation to the Divine Sent Food Cupboard in Oxford; sewed face masks which will be sold and the proceeds donated to charity; and beautified the school's butterfly garden with new plants, painting and general cleanup.
Penn's Grove EarlyAct members Emma Kilroy and Savannah Van Wagner said the chapter will hold a Rock Your Socks fundraiser where students will give a small donation which will allow them to attend classes in their socks on March 19, with proceeds donated to a global charity; perform spring cleaning on the school grounds; and invite veterans from the community to visit the school for a Memorial Day recognition ceremony. Interact member Makenzie Lane said the chapter joined the school's honor societies for a holiday toy drive with donations going to the Christmas Room at Oxford Neighborhood Services; made and signed Valentine's Day cards for area veterans; packed and sent care packages to active duty troops and first responders; and will volunteer at the next Chester County Special Olympics event.
EarlyAct and Interact members are selected on the basis of essays describing their interest in joining the club and commitment to community service. Officers are elected after delivering speeches on their leadership skills and ideas for the club to the full membership.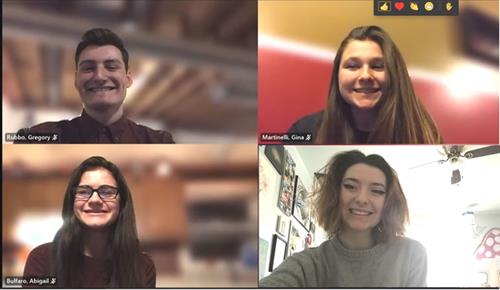 Oxford Area High School Interact chapter officers include, clockwise from top right, Greg Rubbo, vice-president; Gina Martinelli, president; Elizabeth Evans-Ralston, secretary; and Abigail Bulfaro, treasurer.
New inductees to the Hopewell EarlyAct chapter include Riley Buck, Brianna Bulfaro, Natalia Gentile, Grace Howell, Seleina James, Savannah Jones, Abigail Livingston, Olivia Manis, Melany Salinas, Avery Soule and Atziri Torres-Estrada. Returning members include Alexis Badolato, Abigail Coe, Delaney Cowan, Bella Harris, Yaretzi Torres Lopez, Jazzel Ochoa, Emileigh Rodriguez, Cristal Mary Quinones Santiago, Abigail Whelan and Evan Yacka.
New inductees to the Penn's Grove EarlyAct chapter include Nicholas Itoney, Emma Kilroy, Savannah Larry, Owen Oliver and Madison Ricco-Hummel. Returning members include Kendal Marie Bulfaro-Boyd, Evan Lester, Abigail Fraundorfer, David Hanna, Claire Livingston and Emily Murillo-Vazquez.
New inductees to the Oxford Area High School Interact chapter include Juliana Beckson, Virginia Bresler, Abigail Bulfaro, treasurer; Abigail Byers, Mia Gerrard, Gina Martinelli, president; Alexa McCormick and Seth Pearson. Returning members include Ashley Andrikanich, Marissa Berg, Megan Berg, Miranda Berg, Elizabeth Evans-Ralston, secretary; Victoria Koechert, Makenzie Lane, Nicholas Marker, Cade Pearson and Greg Rubbo, vice-president.
Oxford's Interact and EarlyAct chapters are sponsored locally by the Oxford Rotary Club. With the college-level Rotaract club at Lincoln University, Oxford Rotary sponsors chapters of all three youth community service clubs of Rotary International.