Return to Headlines
OAHS teacher wins district Heart of Learning Award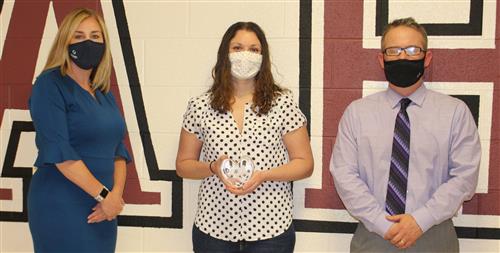 Oxford Area High School math teacher Nicole Wiltrout was named the Oxford Area School District winner of the 2021 Citadel Heart of Learning Award. Pictured from left are Fallon Maloney, Citadel Director of Retail; Mrs. Wiltrout and Oxford Area High School Principal James Canaday.
Oxford Area High School mathematics teacher Nicole Wiltrout is the Oxford Area School District's recipient of the 2021 Citadel Heart of Learning Award sponsored by Citadel Federal Credit Union and the Chester County Intermediate Unit.
The annual award recognizes the outstanding job Chester County's teachers perform in educating and caring for our young people. In addition to the award, Mrs. Wiltrout received $500 for classroom use. She is also one of 15 finalists for the county-wide Heart of Learning Awards, which are presented in May to an elementary, secondary and private school teacher.
Mrs. Wiltrout has been teaching at the high school since 2013. She currently teaches College Prep Geometry and Honors Geometry for grades 9 and 10 and College Prep Statistics for grades 11 and 12.
"Nicole is a respected teacher at Oxford and always puts the needs and interests of her students first," said Principal James Canaday. "She understands the importance of building relationships and trust with her students and their families. The core of the Citadel Heart of Learning Award is caring and service to others – both of which Mrs. Wiltrout embodies."
A native of Pittston, PA, Mrs. Wiltrout earned a bachelor's degree in secondary education from Kutztown University in 2012 and a master's degree in mathematics from West Chester University in 2016. She and her husband Patrick live in the Coatesville area and have two children, Tyler, 3, and Natalie, born in February.
"Receiving the Citadel Heart of Learning Award is an honor," said Mrs. Witrout. "I give 110 percent every day, every minute to my students, and building relationships with them is the most important thing to me about being a teacher. It has been said that while a lot of people are in it for the income, teachers are in it for the outcome, which I think is totally true."
Mrs. Wiltrout said she became a teacher because she always wanted to be a role model for others, especially young people. "It really comes from when I was a student and I had a lot of teachers who I looked up to," she said.
Mrs. Wiltrout came to work in Oxford after graduating from Kutztown. "I have a 40-minute daily drive from Coatesville, and a lot of people ask me when I will get myself a shorter commute," she said. "And I tell them that I'm happy here in Oxford. I love my co-workers and the students. We have great support from the administration, and I hope to be here many more years as a part of this great team."