Return to Headlines
OAHS Graduate Awarded ROTC Scholarship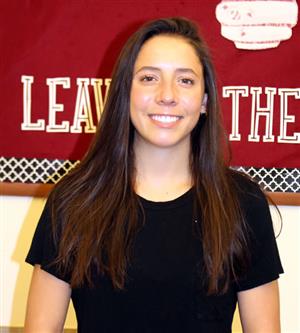 Oxford Area High School Class of 2021 graduate Lauren Neskie was recently named a recipient of a U.S. Army R.O.T.C. Scholarship. The three-year scholarship will cover up to $10,000 in tuition or room and board in each of her sophomore through senior years in college.
Lauren, daughter of Kimberly and Christian Neskie, will attend the University of South Florida (USF) this fall. She plans to major in business administration but is also interested in pursuing a degree in psychology.
Although the scholarship will not go into effect until Lauren's sophomore year, she will participate in R.O.T.C. activities once she arrives on the USF campus in the Tampa Bay area. "I will have physical training three days a week, and in addition to my regular studies I will have an R.O.T.C. course and lab," she said.
Lauren became interested in applying for an Army R.O.T.C. scholarship after a friend had been awarded the scholarship. She said she admired that her grandfather, Ray Bauer, served in Vietnam and had always thought she would like to be a part of the military in some way.
"I've always enjoyed having opportunities for service," said Lauren, who was a member of the Helping Hands and Interact community service clubs at the high school. "I think that played a role in my interest in serving my country."
Lauren completed an online scholarship application, followed by an hour-long Zoom interview with a professor of military science at University of Delaware. As part of the application, she listed seven colleges and universities that she would be interested in attending, in order of preference.
"The scholarship committee would then give me a choice of three schools with openings in their R.O.T.C. units, and fortunately my top three schools all had spots for me," said Lauren, who also listed the University of Central Florida and Arizona State University among her preferred colleges.
The R.O.T.C. Scholarship requires Lauren to commit to eight years of Army service following graduation from USF. This can take the form of active service, membership in the Army Reserve or membership in the National Guard.
"During the summer before my senior year, I will attend training at Fort Knox where I will be evaluated as to where I can best serve," said Lauren. "I am open to all three options for my Army service."