OAHS ECA junior runs for Phi Theta Kappa office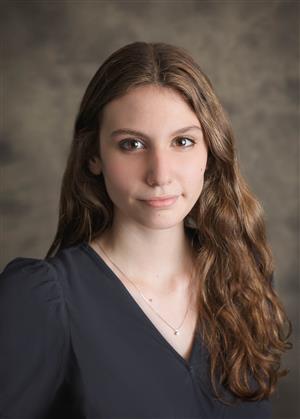 "Katherine is a sharp and energetic student at Cecil College. She is extremely focused and dedicated to this opportunity, and I know I speak on behalf of the Cecil College community on how proud we are of Katherine and look forward to her upcoming opportunity with PTK. Way to go Kate!"
Paul Culbertson. Coordinator of Student Engagement, Cecil College


Oxford Area High School junior Katherine Hanna, daughter of Beth and Steven Hanna, was recently selected as a semifinalist for the office of Division 1 vice-president of the Phi Theta Kappa (PTK) honor society. Katherine is a member of the Alpha Alpha Theta chapter of PTK at Cecil College, where she enrolled in the Early College Academy (ECA) partnership with the high school.
As one of 18 semifinalists for the office, Katherine will travel to Orlando, Florida to attend PTK Catalyst 2021, the organization's annual national conference which will be held from April 8 to 10. Although the conference will be held virtually, all candidates for PTK's international offices have been invited to attend in person.
Established in 1918, Phi Theta Kappa has chapters at approximately 1,300 community college campuses in 11 nations, and is recognized as the official honor society for two-year colleges. More than 3.5 million students have been inducted since the organization's founding, with approximately 250,000 active members in the nation's community colleges.
Catalyst 2021 will include numerous educational forums, a virtual career fair and a virtual college fair where attendees can interact with representatives of four-year colleges and universities to gain information about continuing their undergraduate studies. While staying at the conference hotel, Katherine and the other officer candidates will participate in virtual workshops while attending general sessions in person.
To qualify for PTK membership, students must have a minimum of 12 credit hours and a 3.5 GPA, and following induction must maintain a minimum 3.0 GPA. Katherine, who is in her first year as member of PTK, said her decision to run for office is a result of a natural tendency to take on challenges and work hard to achieve personal goals.
Upon applying to run for vice-president of PTK Division 1, which encompasses most states along the Atlantic coast, Katherine was one of 26 students seeking the office. The first phase of her candidacy required her to research and write a presentation on a topic of her choice, to be delivered without consulting notes.
"My presentation was on the significant legacies of 2020, focusing on the physical and mental impact of virtual learning on students," said Katherine. "As part of my research I was required to cite three college-level sources. It was challenging but I felt it went well."
The candidate panel agreed, and Katherine was one of 18 students to advance to semifinalist status. In Orlando she will be required to present on an entirely different topic, and will discuss the impact of Henry David Thoreau's works on the environmental movement.
"I have a deep interest in the environment and conserving natural resources," said Katherine. "I am enrolled in the high school's environmental science course and really enjoy it."
As a junior in the Early College Academy program, which provides Oxford students with the opportunity to earn both high school and college credits over four years, Katherine would normally be attending classes at the Cecil College campus, but the pandemic has resulted in all courses being delivered virtually. She is currently enrolled in accounting electives and hopes to eventually pursue a career as an actuary.
Katherine said she enrolled in the Early College Academy as a freshman after her brother Thomas, who is currently a senior, had a positive experience as an ECA participant in his freshman year. Thomas will graduate with an associate's degree from Cecil College in May, and like all ECA students will be able to transfer his credits when he enters a four-year program this fall.
The ECA program is designed for freshmen to have two classes taught by Cecil professors at the high school. As sophomores, students take additional college classes at the high school, with some on-campus classes offered in their junior year. By their senior year, students are able to take all their classes on the Cecil College campus.
"For the first two years of the ECA program, you are able to be in classes with all the students in your cohort, and I really enjoyed that," said Katherine. "Now I am looking forward to hopefully being on campus for my senior year. Being part of a campus environment on a daily basis is an essential part of the program."
Katherine said the ECA program has helped her grow as a student. "I think the program has made me better prepared, where I am able to meet strict deadlines, and helped me to develop my time management skills," she said. "The professors from Cecil College have all been awesome."
Katherine will be accompanied at Catalyst 2021 by her mother, a fifth grade teacher at Hopewell Elementary School. She will deliver her presentation on April 8, with the voting delegates choosing two finalists for each office the following day. Finalists will be interviewed by the voting delegates on April 10, followed by announcement of the new officeholders.
"Since the Early College Academy partnership was established, our high school has had several students inducted into Phi Theta Kappa," said guidance counselor Jennifer Williams. "But Katherine is the first to seek office in the organization, and that is fantastic. I think it indicates Katherine's character as a student and as a person. She is serious about everything she decides to do and is committed to putting in the work necessary to achieve her goals."