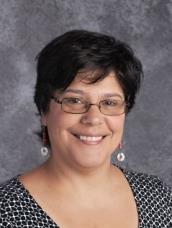 Phone: (610) 932-6632 x6635
Email:
Degrees and Certifications:
BS Chemistry BA English MA English MA Communication Science and Disorders
Mrs.

Francine Gulino

I am the speech language pathologist for Nottingham Elementary School. have been a speech language pathologist since 2013. Speech and language support is my second career, as I used to teach composition and literature at the college level. I am a local resident with a high school junior attending the Avon Grove School District and a college student at Millersville University. I love the warm atmosphere of Oxford Area School District and I love working here. I particularly have an interest in therapies for children on the autism spectrum, as I have a family member on the spectrum.
Straight Talk about Speech and Language

Welcome to Straight talk about speech and language. This is a new blog that will address issues that might come up in your child's speech or language. Today we are going to talk about speech articulation.
February focus is on active verbs!

Posted by

Francine Gulino

on

2/9/2020

January Starts with Pokemon Day!

Posted by

Francine Gulino

on

1/7/2020

December Activity: Exploring Categories

Posted by

Francine Gulino

on

12/12/2019

Our blankets are on their way to AI Dupont

Posted by

Francine Gulino

on

11/17/2019

Learning about Generosity, Gratitude and Empathy

Posted by

Francine Gulino

on

10/22/2019

When should I refer my child for speech and language screening?

Posted by

Francine Gulino

on

9/27/2019
What is Speech and Language Support?
Speech and Language Support is a therapy offered by the school district. It offers support to students with speech and language impairments. In order to receive speech and language support, your child must have had an evaluation through OASD or another school district in PA. Within 30 days an Individualized Education Plan (IEP) would have been developed that listed speech and language support as a service.

Speech and Language disabilities generally fall into the following categories:

1. Expressive language delays/disorders

This is a complicated way to say that the student has difficulty using language in their everyday life. They may be fine asking for breakfast or playing with friends, but when they have to do more complex tasks, such as explain how something works or write a story, it becomes more difficult for them. Vocabulary is often limited.

2. Receptive language delays/disorders

This is a complicated way of saying that the student has difficulty understanding what others are saying. Again, they can usually understand simple, short sentences, but it is hard for them to process longer sentences and follow multi-step directions. Vocabulary is often limited.

3. Speech Sound delays/disorders

Some students have difficulty using a one or more sounds in language. In third and fourth grade, usually the sound is r or s, sometimes sh or th. It is usually harder for them to say these sounds in conversation than it is for them to say the sounds in individual words.

4. Fluency

When some students speak, they repeat sounds and words. They may also have accompanying secondary characteristics such as blinking, frowning, or coughing. We often call lack of fluency stuttering.

5. Pragmatic Language or social communication delays/disorders

Some students have difficulty using their language to communicate socially. They often do not see the 'hidden rules' of social interaction and will speak too quickly, interrupt, be unable to ask questions and/or explain things to others. They often have difficulty making friends and writing longer stories. Some of them may be on the autism spectrum. Students with pragmatic language disorders will also have difficulty telling a story or using their language effectively to get what they want.

When a delay/deficit is determined by the special education department, typically an intervention is undertaken. If a delay/deficit is not documented, generally intervention is not supported by the IEP.

Intervention comes in two forms: specially designed instruction and goals.

Specially designed instruction includes all of the ways that the teachers, therapists, and staff can adapt and modify the student's environment or tasks to help them learn better. It can be as simple as giving them a special pencil or reducing the number of spelling words they learn to receiving pull-out therapy or needing a Personal Care Assistant (PCA).

Goals are tasks that students are expected to improve on over the course of a year. In therapy we work on improving at these tasks, and then data is collected at least once a month to see if the student is doing better with it. For example, a student may say the word 'wed' for red before therapy. After a few months, they may say 'red' when they use individual words, but still use 'wed' when they are talking in class. Eventually, we want them to say 'wed' all of the time. Collecting data lets us see when a student has finally mastered their task, or goal.
How can I help my children achieve their speech and language goals?
I am asked this question fairly often by parents. The answer may surprise you. No special programs or flashcards are necessary. Children improve their language in two important ways at home: by listening to/speaking with parents and friends and by reading/listening to stories.

Engage your child as you do activities together.

Label the ingredients when you cook and talk about the steps you take for the recipe.

Talk about what you see when you walk or drive. When you are at the grocery store ask them to identify/find the foods that you eat and seek out and label others.

Play I spy or Twenty Questions when you are driving.

Let all siblings get a chance to talk. Try to cultivate an environment that gives even the quietest children a chance to speak their mind without interruption. Sometimes you can have an item that people hold -- like a stone or a stick -- that means they get to be the talker. Nobody can talk until it is their turn to hold the "talking stick."

Try to listen carefully to your child when he or she speaks. If she has a speech sound disorder, don't correct the child's speech but list time to its content first. Then arrange ahead a time that you can work on speech together.

Nobody is super human. This kind of behavior is hard to do when you are busy, stressed, rushed, and frustrated. But if you can put aside time each week to try and cultivate these activities, this is the best kind of speech homework your child can do!
Helpful Speech and Language Websites and Links
ADHD and its effects on speech and language

This website gives a clear and thorough explanation of how ADHD affects a child's ability to communicate. It also offers strategies for parents to use to improve communication at home.

Social thinking -- in a nutshell

Not sure what we mean by social thinking? Michelle Garcia Winner explains.

Social Thinking -- On Vacation

From Michelle Garcia Winner's website, socialthinking.com. This article explains how summer vacation can be a good time to practice social thinking.

What is whole body listening and how can you improve it?

Whole body listening and how to improve it from the socialthinking website

Increasing sentence length and complexity

This website offers tips on how to help your children speak in longer, more complex sentences.